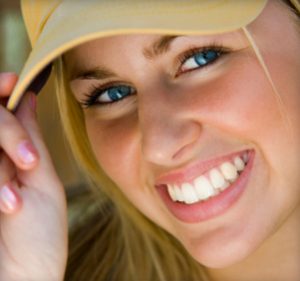 At Sara Cummins Aesthetics & Implant Dentistry, we want you to feel attractive, young, and healthy when you smile. At our office, we use both GLO and Zoom! Teeth Whitening treatments to help you achieve your whitest looking teeth. You can choose from either an in-office treatment or an at-home treatment which can give you the same stunning professional results.
Prior to your teeth whitening treatment, we will examine the shade of your teeth and provide you with a shade assessment. With a shade assessment, you will be able to select the shade of white that is best for you.
If you choose to have at-home teeth whitening treatments, we will provide you with all of the necessary information and products you will need to have a successful result.
If you would rather have your teeth whitening treatments done in our office, then we can complete the treatment in a one-hour appointment.
Why Are My Teeth Not as White as They Used to Be?
There are many reasons why your teeth may no longer be as white as they used to be. For example, there are foods and drinks that can stain your teeth if used for long periods of time. Tobacco use is another common reason for stains on the teeth. However, stains are not the only reason for teeth discoloration. There are also some other causes for teeth discoloration, such as the following:
Age Pigmentation – Aging can cause a natural dark pigmentation of the teeth.
Mouth Injury – Injuries to the mouth can cause tooth discoloration.
Medication – There are some antibiotics and other types of medication that cause the teeth to become discolored.
Genetics – Some people have naturally whiter teeth as a result of their genetic makeup.
A white, bright smile can instantly improve your smile's aesthetic. Give us a call at Sara Cummins Aesthetics & Implant Dentistry today to schedule your professional teeth whitening treatment!